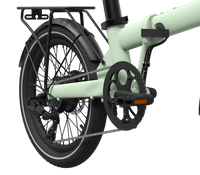 Torque Sensors
All 2023 Eovolt bikes now utilise premium torque sensors.
Torque sensors deliver better ride feel while also improving your battery efficiency compared to cadence sensors that are found on lower spec bikes.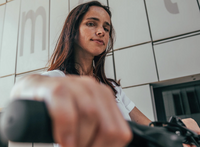 Work, home, friends, family, outings, appointments, shopping...
At Eovolt, we want to put the fun back into your travels round the city, and in your lives.
At Eovolt, we have one ambition: to shake up urban mobility. Better still, to reinvent it.
To succeed, we needed inspiration.
Our inspiration is you. 
To make you more free, more mobile, more spontaneous.
To give you pleasure on your journeys.
To become your mobility partner from morning to night.
Make every trip a moment for yourself.
We design light, folding, durable, powerful bikes for you.
We want to design something beautiful that serves a purpose: something remarkable.
Our bikes are inspired by French excellence, perfected down to the last detail and irreproachable in terms of safety.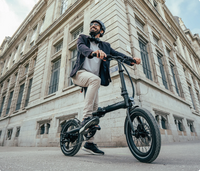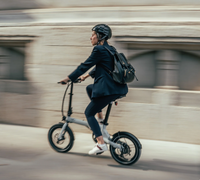 We believe that the journey is as important as the destination. What we know for sure is that it's time to put the fun back into the journey.
These are the ambitions that will guide our decisions, from the design of our products to the communities we will create around them. Because we want to do even more.
Making an impact.
Freedom from the constraints of mobility is a personal choice. We believe in the possibility of a movement, a mechanism to be shared.
We will revolutionise mobility as simply as our bikes fold. 
Eovolt, Moving People. 
Testimonials

I've been riding my Eovolt 20" around the Scottish Borders for almost a year now - what a fantastic purchase! I can ride the bike with no motor support if I want but I don't feel daunted about going out on windy days or on hilly routes - with the help of the motor, I venture out on my bike far more than I would on my non-e-bike. It's robust, comfortable, easy to ride...brilliant bike!



Lindsay Macgregor

I bought my Eovolt 20" in June. I'm 73 and hadn't ridden a bike for over 50 years. The bike is incredible and has added a new level of enjoyment of the Perthshire countryside I'm lucky to live in. It's a comfortable, stable ride and the build quality is faultless.



Mike Bell

Great value folding bike! The bike is solid without being heavy, and folds down neatly to fit in the back of my car or in my (very small!) lobby. Range is great, and the battery power assist is fab - on level 5 (max) you barely need to touch the pedals.

Mr Raith